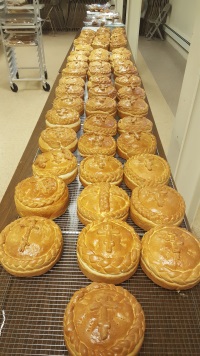 Men and women of the parish (as well as friends and Knights of Colombus) support our parish by making a variety of delicious dishes. That is why we refer to the work as "kitchen ministry." Not only do we have a good time working together as a family, but we also give glory to God through our hard work. Anyone can join this group in order to help.
Primarily, we work in the Fall, Winter and Spring time, taking a summer break. Our kitchen is famous in the community for making the most delicious pirogies, halushki, gobs, pagach (potato pie), and various types of soup. We also make Pascha Bread andother delicious baked goods, especially during our annual Christmas Bake Sale, when we make more than a dozen varieties of cookies.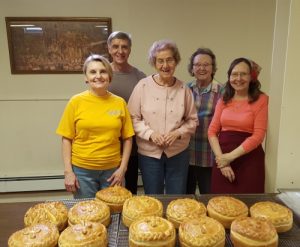 We are proud of our kitchen ministry as it serves the parish faithfully. One of the most beautiful things that we do is serving meals for the funerals of our deceased parishioners. It is the last nice thing that we do for people who were so faithful to our parish in good times as well as the bad ones.
For more information, call Rectory at 814 948 9193.
To place an order, call 814 948 6140 and leave a message.